Feature
Related Video
Feedback (2)
We insist on the principle of development of 'High quality, Efficiency, Sincerity and Down-to-earth working approach' to provide you with excellent service of processing for Open Impeller Submersible Pump , China Oil Pump , Hydraulic axial flow pump , Winning customers' trust is the gold key to our success! If you are interested in our products, please feel free to visit our web site or contact us.
---
China New Product Vertical Turbine Well Pump - Diesel Engine Long Shaft Vertical Turbine Fire Pump – Tongke Detail:



XBC-VTP Series vertical long shaft fire fighting pumps are series of single stage, multistage diffusers pumps, manufactured in accordance with the latest National Standard GB6245-2006. We also improved the design with the reference of the standard of United States Fire Protection Association. It is mainly used for fire water supply in petrochemical, natural gas, power plant, cotton textile, wharf, aviation, warehousing, high-rising building and other industries. It can also apply to ship, sea tank, fire ship and other supply occasions.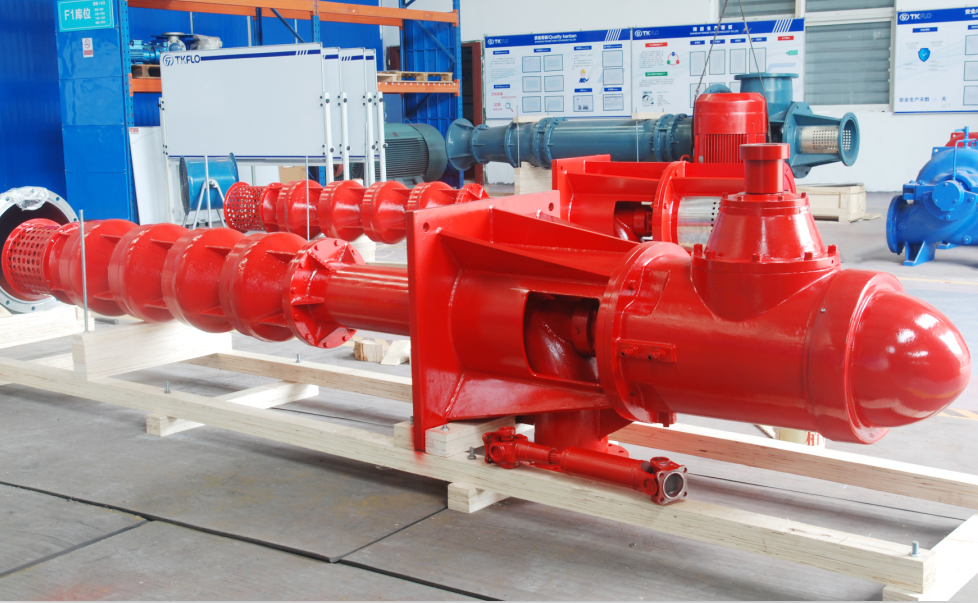 Advantages:
♦ Pump, driver, and controller are mounted on a common base.
♦ Common baseplate unit eliminates the need for separate mounting surfaces.
♦ Common unit minimizes the need for interconnecting wiring and assembly.
♦ Equipment arrives in a consolidated shipment, allow-ing faster and simplified installation and handling.
♦ Custom designed system, including accessories, fittings, and layouts available to meet the customer's specifications.
♦ To ensure design
TKFLO Vertical Turbine Fire Pump Advantages:
♦ With the advanced hydraulic design and structure, adopting Ashland process to make impeller blade, adopting epoxy coating process in impeller vane, and reasonable selection of materials, enable the pump have an excellent performance and long life.
♦ Whirl sand device and maze-like structure make the sand unable to enter the bearings.
♦ The diesel engines are all domestic or imported high quality products, that have the features of good behavior of starting, strong ability for overload, tight structure, convenient for maintenance, simple to use, and highly automated.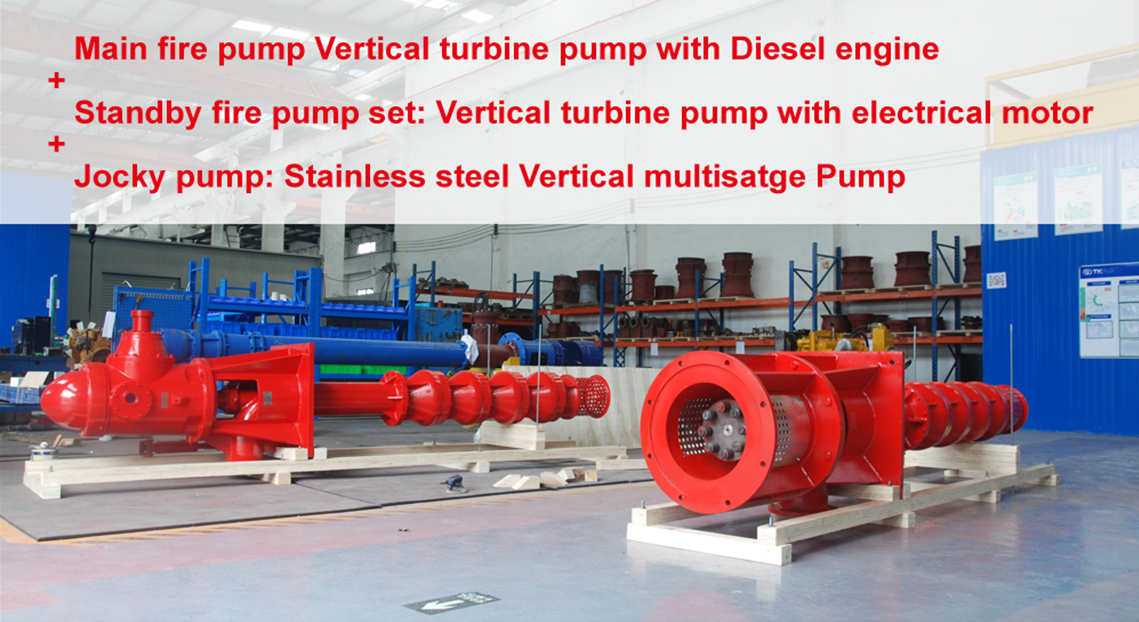 The TONGKE Pump Fire Pump Units, Systems, and Packaged Systems
TONGKE Fire Pump installations (UL approved ,Follow NFPA 20 and CCCF ) deliver superior fire protection to facilities worldwide. TONGKE Pump has been offering complete service, from engineering assistance to in house fabrication to field start-up. Products are designed from a broad selection of pumps, drives, controls, base plates and accessories. Pump choices include horizontal, in-line and end suction centrifugal fire pumps as well as vertical turbine pumps.
Both horizontal and vertical models provide capabilities up to 5,000 gpm. End suction models deliver capacities to 2,000 gpm. In-line units can produce 1,500 gpm. Head ranges from 100 ft to 1,600 ft with as much as 500 meters. Pumps are powered with electric motors, diesel engines or steam turbines. Standard fire pumps are Ductile cast iron with bronze fittings. TONGKE supply the fittings and accessories recommended by the NFPA 20.
Applications
Applications vary from small, basic electric motor driven to diesel engine driven, packaged systems. Standard units are designed to handle fresh water, but special materials are available for sea water and special liquid applications.
The TONGKE Fire Pumps give superior performance in Agriculture, General Industry, Building Trade, Power Industry, Fire Protection, Municipal, and Process applications.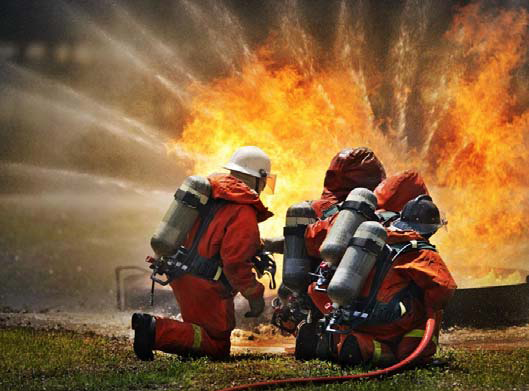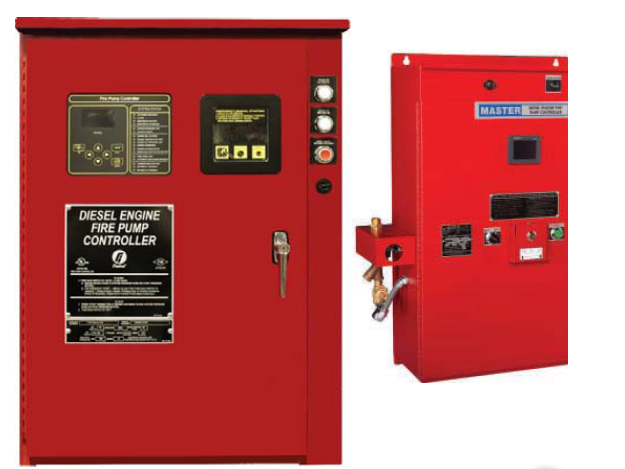 Fire Protection
You have decided to reduce the risk of fire damage to your facility by installing a UL, ULC listed fire pump system. Your next decision is which system to purchase.
You want a fire pump that is proven in installations worldwide. Manufactured by an professional with vast experience in the fire protection field. You want complete service to field start-up. You want a TONGKE Pump.
Providing Pumping Solutions TONGKE Can Fulfill Your Requirements:
Complete in-house fabrication capabilities
Mechanical-run test capabilities with customer furnished equipment for all NFPA standards
Horizontal models for capacities to 2,500 gpm
Vertical models for capacities to 5,000 gpm
In-line models for capacities to 1,500 gpm
End suction models for capacities to 1,500 gpm
Drives: electric motor or diesel engine
Basic units and packaged systems.
Fire Pump Units & Packaged Systems
Electric Motor Drive and Diesel Engine Drive fire pumps can be furnished for any combination of pumps, drives, controls and accessories for listed and approved and NONlisted fire service applications. Packaged units and systems lower fire pump installation costs and offer these
Accessories
To meet the recommendations of the standards of the National Fire Protection Association as published in their Pamphlet 20, current edition, certain accessories are required for all fire pump installations. They will vary, however, to fit the needs of each individual installation and the requirements of the local insurance authorities. Tongke Pump provides a wide range of fire pump fittings which include: concentric discharge increaser, casing relief valve, eccentric suction reducer, increasing discharge tee, overflow cone, hose valve head, hose valves, hose valve caps and chains, suction and discharge gauges, relief valve, automatic air release valve, flow meter, and ball drip valve. No matter what the requirements, Sterling has a complete line of accessories available and can satisfy the requirements of each installation.
The charts reproduced below graphically illustrate the many accessories as well as the optional drives that are available with all Tongke fire pumps and packaged systems.

FRQ
Q. What makes a fire pump different from other kinds of pumps?
A.  First, they meet the stringent requirements of NFPA Pamphlet 20, Underwriters Laboratories and Factory Mutual Research Corporation for reliability and unfailing service under the most difficult and demanding circumstances. This fact alone should speak well for TKFLO's product quality and premium design features. Fire pumps are required to produce specific flow rates (GPM) and pressures of 40 PSI or greater. Further, the above mentioned agencies advise that the pumps should produce at least 65% of that pressure at 150% of the rated flow — and all the while operating at a 15 foot lift condition. The performance curves must be such that the shut-off head, or "churn," is from 101% to 140% of the rated head, depending upon the agency's definition of the term. TKFLO's fire pumps are not offered for fire pump service unless they meet all agencies' requirements.
Beyond performance characteristics, TKFLO fire pumps are carefully scrutinized by both NFPA and F.M. for reliability and long life through analysis of their design and construction. Casing integrity, for example, must be suitable to withstand a hydrostatic test of three times the maximum operating pressure without bursting! TKFLO's compact and well-engineered design allows us to satisfy this specification with many of our 410 and 420 models. Engineering calculations for bearing life, bolt stress, shaft deflection, and shear stress must also be submitted to NFPA . and F.M. and must fall within conservative limits to ensure utmost reliability. Finally, after all the preliminary requirements have been met, the pump is ready for final certification testing to be witnessed by representatives from U.L. and F.M. Performance tests will require that several impeller diameters will be demonstrated satisfactorily, including the minimum and maximum, and several in between.
Q. What is the typical lead time for a fire pump?
A. Typical lead times run 5-8 weeks from release of an order. Call us for details.
Q. What is the easiest way of determining pump rotation?
A. For a horizontal split-case fire pump, if you are sitting on the motor facing the fire pump, from this vantage point a pump is right-hand, or clock-wise, if the suction is coming from the right and the discharge is heading toward the left. The opposite is true for left-handed, or counter-clockwise rotation. The key is the vantage point when discussing this topic. Make sure both parties are viewing the pump casing from the same side.
Q. How are engines and motors sized for fire pumps?
A. Motors and engines supplied with TKFLO fire pumps are sized according to U.L., F.M. and NFPA 20 (2013), and are designed to operate on any point of the fire pump curve without exceeding the motor nameplate service factor, or engine size. Do not be fooled into thinking that the motors are sized only to 150% of nameplate capacity. It is not uncommon for fire pumps to operate well beyond 150% of rated capacity (for example, if there is an open hydrant or broken pipe downstream).
For more specifics, please refer to NFPA 20 (2013) paragraph 4.7.6, UL-448 paragraph 24.8, and Factory Mutual's Approval Standard for Split Case Fire Pumps, Class 1311, paragraph 4.1.2. All motors and engines supplied with TKFLO fire pumps are sized to the true intent of NFPA 20, U.L. , and Factory Mutual.
Since fire pump motors are not expected to be running continuously, they are often sized to take advantage of a 1.15 motor service factor. So unlike domestic water or HVAC pump applications, a fire pump motor is not always sized "non-overloading" across the curve. As long as you do not exceed the motor 1.15 service factor, it is allowed. An exception to this is when a variable speed inverter duty electric motor is used.
Q. Can I use a flow meter loop as a substitute for a test header?
A. A flow meter loop is often practical where flowing excessive water through standard U.L. Playpipe nozzles are inconvenient; however, when using a closed flow meter loop around a fire pump, you may be testing the pumps hydraulic performance, but you are NOT testing the water supply, which is a critical component of the fire pump system. If there is an obstruction to the water supply, this will not be evident with a flow meter loop, but will certainly be exposed by testing a fire pump with hoses and Playpipes. On an initial start-up of a fire pump system, we always insist on flowing water through the system to ensure the integrity of the entire system.
If a flow meter loop is returned back to the water supply — such as an above-ground water tank — then under that arrangement you will be able to test both the fire pump and the water supply. Just make sure that your flow meter is properly calibrated.
Q. Do I need to worry about NPSH in fire pump applications?
A. Rarely. NPSH (net positive suction head) is an important consideration in industrial applications, such as boiler feed or hot water pumps. With fire pumps, however, you are dealing with cold water, which uses all of atmospheric pressure to your advantage. Fire pumps need a "flooded suction," where the water arrives to the pump impeller through gravity. You need this to guarantee a pump prime 100% of the time, so that when you have a fire, your pump operates! It is certainly possible to install a fire pump with a foot valve or some artificial means for priming, but there is no way to guarantee 100% that the pump will function properly when called on to operate. In many split-case double suction pumps, it only takes approximately 3% of air in the pump casing to render the pump inoperable. For that reason, you will not find a fire pump manufacturer willing to risk selling a fire pump for any installation that does not guarantee a "flooded suction" to the fire pump at all times.
Q. When will you answer more questions on this FAQ page?
A. We will add them as issues arise, but feel free to contact us with your questions!
---
Product detail pictures:


---
Related Product Guide:

---
The customer satisfaction is our primary target. We uphold a consistent level of professionalism, quality, credibility and service for China New Product Vertical Turbine Well Pump - Diesel Engine Long Shaft Vertical Turbine Fire Pump – Tongke , The product will supply to all over the world, such as: Rio de Janeiro, Berlin, Norwegian, Welcome to visit our company, factory and our showroom where displays various products that will meet your expectation. Meanwhile, it is convenient to visit our website, and our sales staff will try their best to provide you the best service. Please contact us if you need more information. Our aim is to help customers realize their goals. We are making great efforts to achieve this win-win situation.
Production management mechanism is completed, quality is guaranteed, high credibility and service let the cooperation is easy, perfect!


By Judith from Jordan - 2018.12.05 13:53
---
It can be said that this is a best producer we encountered in China in this industry, we feel lucky to work with so excellent manufacturer.


By Elizabeth from Kenya - 2018.09.21 11:44
---